Raoul Moat second post-mortem test results awaited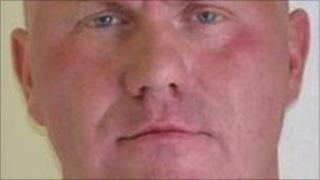 The results of a second post-mortem examination on gunman Raoul Moat may not be known for several days, his family has said.
Moat, who died on 10 July, shot his former girlfriend Samantha Stobbart, 22, killed her new partner Chris Brown, 29, and wounded Pc David Rathband, 42.
Moat's brother Angus and uncle Charlie Alexander paid £600 for the second examination to be be undertaken.
They say they have questions over how the former doorman died.
Moat, 37, from Fenham in Newcastle, was hunted by police for a week before he was cornered in Rothbury, Northumberland.
Northumbria Police admitted Tasers were used twice during a six-hour stand-off which ended with Moat apparently shooting himself.
The Independent Police Complaints Commission (IPCC) is investigating the use of experimental shotgun-style Tasers, which can deliver a shock of up to 50,000 volts.
Mr Alexander said a pathologist was continuing his examination of his nephew after beginning the second post-mortem on Tuesday.
An initial post-mortem carried out the day after Moat died found the cause of death to be a gunshot wound consistent with the shotgun the former doorman had been carrying.
But after seeing Moat's body for themselves and hearing that Tasers had been used, the family said they feared the father of three might not have taken his own life.
Mr Alexander, 72, from Gateshead, said the post-mortem results would allow the family to move on and plan for the killer' s funeral.
He said: "The post-mortem findings are not complete. There are still tests to be done.
"After that the matter will be in the hands of solicitors because we do not want any comment we make to affect the inquest.
"We still need to make plans for the funeral but cannot do so until we know about the second post-mortem."
Pc Rathband, who was blinded, left hospital earlier this week.
So far 20 people have been arrested in connection with the Moat investigation.