Two bodies found hanging in Northumberland woods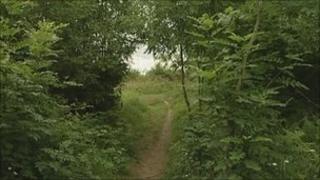 Two young men aged 19 and 20 who died in wooded area in Northumberland were believed to have been found hanging.
Northumbria Police have released few details about the incident but have said they are not looking for anyone else in connection with the deaths.
It is believed a dog walker in his 70s made the find at about 0915 BST on Tuesday in dense woods in Cramlington.
Police said the two men were found dead at the scene, on a patch of land near the Brockwell Medical Centre.
They said neither was taken to hospital.
Bob Dunning, practice manager at Brockwell Medical Group, said: "We have seen police cars and an ambulance but we are in the dark about what has happened.
"The clinic backs on to some wooded areas and fields and I presume they were found on one of the footpaths around here."
'High spirits'
Mr Dunning said there was no suggestion the men had a link to the clinic.
Officers cordoned off a footpath leading from the centre to a nearby housing estate but it was reopened later.
Another dog walker, John Ferguson, 53, said he saw two young men heading into the woods early in the morning.
"I was walking here at 0620 BST when I saw two of them across there into the trees," he said.
"I could hear them shouting but I was too far away to make out what they were saying. They seemed in high spirits, happy."
A police spokeswoman said their inquiries were at an early stage.