Ex-lord lieutenant of Northumberland Sir John dies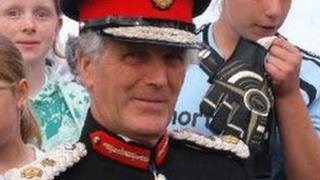 The former Lord Lieutenant of Northumberland Sir John Riddell died of cancer at the weekend, aged 76.
Sir John, whose family seat is in Hepple in the Coquet Valley, was chairman of Northern Rock Building Society.
He also served as Lord Lieutenant - the Queen's official representative for the county - from 2000 until last year.
His funeral will be held at All Saints Church, Rothbury, on 11 August at 1400 BST.
During the nine years he served as Lord Lieutenant he welcomed many members of the Royal family to Northumberland - including the Queen and Prince Philip, who visited in 2001.
Sir John devoted many years of service to the north east of England and carried out a vast number of duties involving the Armed Forces and voluntary organisations.
Bob Biggs, the Deputy Clerk to the Lieutenancy at Northumberland County Council, said: "We are all very sad to hear the news.
"Sir John was a very popular figure in the county and did a wonderful job during his time as Lord Lieutenant.
"He had the rare ability to put a smile on the face of everyone he met.
"Those of us who were fortunate enough to be able to know him and work with him will miss him very much. He was a delight to work alongside.
"Our thoughts are with his wife, Lady Sarah Riddell, and other members of his family."