Teenagers 'killed man in Newcastle after cigarette row'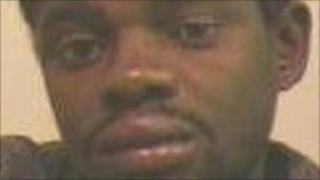 Three teenagers beat a man to death in Newcastle after a dispute over a cigarette, a court has heard.
Papa Mody Mbaye, from Senegal, was found with massive head injuries in Hugh Gardens, Benwell, in February, and died in hospital three days' later.
Newcastle Crown Court was told that the 30-year-old asylum seeker, who was also known as Alioune Cisse, had been chased, punched and stamped on.
The three boys, aged 13, 15 and 17, each deny charges of murder.
Prosecutor Jamie Hill QC told the court that Mr Mbaye had approached the group - all of whom had been drinking - as they stood outside an off licence and asked for a cigarette.
His request was refused, an abusive exchange followed, and he walked off.
The teenagers followed him, and one witness described seeing him pick up a piece of metal to try to ward them off, jurors heard.
'Mortal drunk'
Mr Hill said that a woman who witnessed the attack from her bedroom window she had seen the 17-year-old stamping repeatedly on Mr Mbaye's head.
Another youth was also seen stamping and kicking into the rib area, with the pair "acting like maniacs".
Forensic experts had identified three different sets of shoe imprints on Mr Mbaye's body, the court was told.
The 17-year-old told police at first that he had punched Mr Mbaye to prevent him hitting him with a piece of metal.
He later admitted kicking him in the back, but blamed his 15-year-old friend for the rest of the attack.
The 15-year-old told police he had tried to stop the attack because they were "going too far".
Mr Hill said that the 13-year-old claimed to have "gone for a look" after being told by a friend that two older boys were attacking someone.
He later told a school friend he had "murdered someone" because he was "mortal drunk", the prosecutor said.
The trial continues.