Ringtons Tea delivery man saves Gateshead pensioner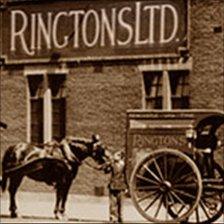 A tea delivery man saved the life of a pensioner who collapsed in her house in Gateshead.
Ringtons Tea salesman, Lee Craggs, 24, of Sunderland, found Rosemary Falloon, who has diabetes, on the floor of her Birtley home and called an ambulance.
Mr Craggs, a trained first aider, also fed her chocolate-coated marshmallows from his basket bringing her sugar levels back to normal.
Mrs Falloon, 84, said his quick action saved her life.
Mr Craggs said: "The paramedics were looking for some biscuits. We couldn't see where she kept them so I went to the van and got a box of marshmallows, something sweet, thankfully, that brought her round."
Mrs Falloon said: "I can't thank Lee enough for what he did for me. I might not have been here today if it hadn't been for him.
"He had the sense to phone [the ambulance service] straight away, he had the sense to switch the iron off which was still hot and he had the sense to put me in the recovery position."
Related Internet Links
The BBC is not responsible for the content of external sites.