North Tyneside RNLI lifeguards help ducks across road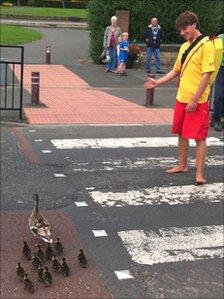 Lifeguards on North Tyneside have carried out one of their more unusual annual tasks - coming to the rescue of a family of ducks.
Each year, the birds lay their eggs near the site of an old swimming pool on Longsands beach in Tynemouth.
Once hatched, the ducklings have to make their way to a new home at the boating lake in the local park, which involves crossing a busy road.
Two RNLI lifeguards helped guide them over a zebra crossing to safety.
Lifeguard Sandy Kerr said: "Although the ducks know where they're going, it is quite a distance with a busy road in between, so we try to make the journey as safe as possible for them.
"Keeping the ducklings together as they crossed the road was a bit of a challenge this time.
"They didn't seem to grasp the significance of the zebra crossing, but with our safety advice they all made it and are now at home in the boating lake."
Lifeguard supervisor Ben Mitchell added: 'The RNLI exists to operate a seamless rescue service from the beach to the open sea.
"While the duck's eventual destination was inland, the rescue definitely began on the beach and we were happy to help."
Related Internet Links
The BBC is not responsible for the content of external sites.