Newcastle Council 'killjoy' over family play equipment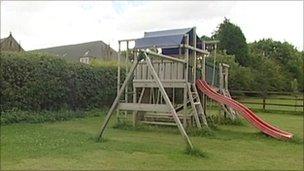 A Newcastle family is hoping to be able to keep a playing frame, after a "killjoy" council ordered its removal.
The Preston family installed the wooden swings and slide in a paddock near their home in Westerhope in 2006.
A year later a neighbour complained to the council, but the family heard no more until a recent letter ordering them to take it down within 21 days.
Newcastle City Council has now said the Prestons can apply for retrospective planning permission.
Lindsay and Craig Preston spent £1,000 on the structure on a plot of land next to their garden.
It is used by their daughter Honor, now nine, and neighbouring children.
In 2007 a neighbour, who has since moved away, complained the equipment might put people off buying her own property.
The couple heard no more, until they were contacted by the council which said an official had finally carried out a site visit, and the structure needed to be removed because it was on the green belt on agricultural land.
Mrs Preston said: "I think the council are being killjoys."
"When the council told us we had to take it down in 21 days they said we need to apply for planning permission, but we won't get it, because our piece of paddock, which is not big, is deemed agricultural land.
"All we want to do is cut the grass and play on it. We didn't buy the land to farm it."
Harvey Emms, head of strategic housing, planning and transportation at the council, said: "It should be stressed that at present the city council has not made any decision on whether to take enforcement action in connection with the play equipment.
"Officers will seek to meet the Prestons in the next few days in order to hopefully resolve the matter without the need for enforcement action."
Related Internet Links
The BBC is not responsible for the content of external sites.