Angel of the North could get public toilets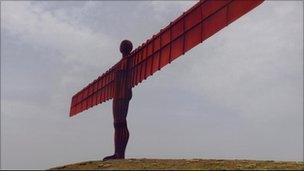 Toilet facilities could be built at the site of the Angel of the North - with the approval of artist Anthony Gormley.
The famous landmark in Gateshead is visited by tens of thousands of people every year, and parking has recently been improved.
Gateshead Council has agreed a toilet block is needed at the site, and planning permission has been granted.
A final decision will be made in October, when the council funding situation is clarified.
Peter Udall, head of property and design at Gateshead Council, said: "Now there are improved parking facilities to make it safer and easier, you see an awful lot of coaches stopping there.
"I think it is brilliant because we built it for people to come up and look at it, so it would be nice if we had those facilities."
He added that the plan had the backing of Mr Gormley, who created the 66ft (20m) high structure.
"When we did the improved car parking last year we spoke to him about toilets," he said.
"As long as we moved them towards the far end of the site, he is quite content."
Related Internet Links
The BBC is not responsible for the content of external sites.