Raoul Moat visits cause Rothbury flood risk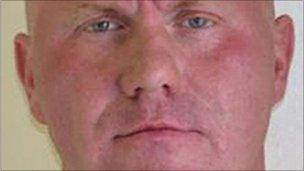 Visitors to the site where Raoul Moat is thought to have hidden from police are risking a flood, it is claimed.
The former nightclub bouncer went on the run after shooting his former girlfriend, her new partner - who died - and a police officer.
The Envirionment Agency said a culvert flap, in Rothbury, where it is thought he hid, is being opened repeatedly.
Meanwhile, 17 people arrested in connection with the case have had their bail extended.
Moat, 37, shot himself in Rothbury on 10 July after a six-hour stand-off with police.
It was close to a culvert, where he is believed to have hidden.
The Environment Agency said the culvert flap is being left open repeatedly.
It said it had received a number of reports that the metal flap at the front of the Coplish Burn culvert had been left open.
The Environment Agency said the flap is an important part of Rothbury's flood defences. It prevents water from the River Coquet flowing back through the culvert into the centre of the town during high river flows.
In September 2008, about 50 properties in the town flooded when water levels rose.
Environment Agency operations delivery team leader Paul Constantine said: "Leaving the flap open at this culvert in Rothbury is dangerous.
"It would cause terrible damage to properties and endanger people's lives in Rothbury if it were left open during a flood event.
"We are appealing for whoever is doing this to stop putting people, homes and businesses in Rothbury at risk of flooding."
On Friday, Northumbria Police said 17 people arrested in connection with the inquiry have had their bail extended until November.
Related Internet Links
The BBC is not responsible for the content of external sites.