Pair stranded on Holy Island Causeway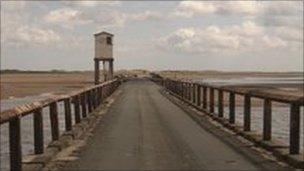 Two people were winched to safety by helicopter after becoming stranded by the tide on a Northumberland causeway.
An RAF rescue helicopter, the coastguard and RNLI were alerted on Sunday afternoon to reports of two people in the water at Holy Island.
They said the pair had tried to cross outside the safe crossing times and had abandoned their car as the water level rose.
The causeway is covered by the tide twice every 24 hours.
Seahouses Inshore Lifeboat operations manager Ian Clayton said: "I really am dismayed, that despite all the publicity, we are still getting visitors stranded on Holy Island Causeway.
"I find it really difficult to understand how apparently rational people can drive their cars into the North Sea, and then wonder why they suddenly find themselves stranded."
Related Internet Links
The BBC is not responsible for the content of external sites.