Study shows Kielder Forest bats thriving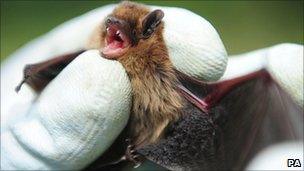 The number of bats populating Kielder Forest in Northumberland is on the increase, a new study has found.
The Forestry Commission survey of specially-created bat boxes revealed eight species living in the 155,000 acre (63,000 hectare) man-made forest.
Experts said populations in Northumberland had been boosted by the long, hard winter.
Specially-licensed staff have been sexing, weighing and measuring bats in Kielder's 232 bat boxes.
Over the last century bat numbers in Britain declined because of habitat loss and they are now on the European Protected Species List.
However, the Kielder survey showed species including pipistrelle, Natterer's, Brown long eared, Daubenton's, Whiskered, Brandt's and Noctule all flourishing.
Forestry Commission ecologist Tom Dearnley said: "A hard winter is good for hibernation, and so for subsequent bat numbers the next year.
"If a winter is cold-warm-cold-warm it causes a variation in the bats' body temperature and hibernation can be disturbed.
"If they come out of hibernation before spring, they use up a lot of energy and it can be hard to replace it when there is very little food for them.
"Bats are a good indicator of the health or otherwise of the local habitat.
"Using that yardstick, the maturing and diverse woodlands at Kielder in particular are providing a haven for the creature."
Related Internet Links
The BBC is not responsible for the content of external sites.