Missing Tyneside python found in museum basement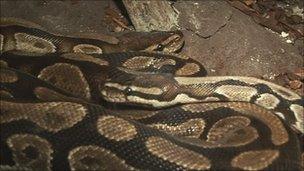 A snake which has been on the loose in a museum for a month has been found in its basement.
Sid and his girlfriend Holly, who are royal pythons, escaped through the mesh at the top of their tank at the Great North Museum in Newcastle.
Holly was lured back the next day with some food, but metre-long Sid (3ft) was nowhere to be found.
The python, who is not venomous and only eats mice, has been reunited with Holly.
Museum manager Steve McClean said: "Holly came back the next day but Sid evaded us - he is a clever lad and was on the loose for about a month right under our feet."
Sid was found by the museum's learning officer, Stephen Kelly. He said: "I looked up to my right in the basement and there was Sid staring at me.
"I knew I would be okay though as he is handled by the public on a daily basis and I do not smell of mice."
Related Internet Links
The BBC is not responsible for the content of external sites.