Arsonists behind two Northumberland farm fires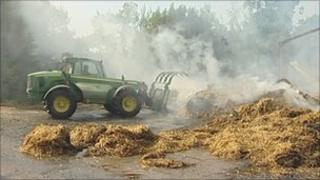 Arsonists are believed to be responsible for barn fires at two farms in Northumberland.
Emergency services were called late on Tuesday to the fires, which were 15 minutes apart, in the Morpeth area.
There were no animals in the barns at the time but there was a substantial amount of damage including a large quantity of straw destroyed.
Northumbria Police believe the two fires are linked and are investigating the cause of them.
Morpeth neighbourhood inspector Alison Best said: "Both of these incidents are suspected arson attacks and we are working alongside the fire service to establish the circumstances and the cause of these fires."
One of the sites hit was Causey Park Farm, which runs educational visits.
Peter Hogg, from the farm, said: "You have got this mindless minority in society now and all they want to do is create mayhem and get their cheap thrills."