Arrests in South Tyneside assisted suicide inquiry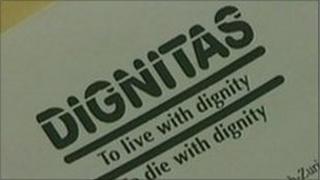 Two people have been arrested on suspicion of assisting the suicide of a disabled man from South Tyneside.
Retired engineer Douglas Sinclair, 76, had been suffering from the debilitating disorder multiple system atrophy, his solicitor said.
Christopher Potts said Mr Sinclair died in Zurich on 28 July. He arranged his death through the Swiss assisted-suicide organisation Dignitas.
The woman and man who were arrested have been bailed as inquiries continue.
Mr Sinclair, a father-of-one, had had the condition for two years.
He was being cared for at a care home in Jarrow, South Tyneside, when his conditioned worsened earlier this year.
A team of legal, medical and social services professionals met to discuss his case in January, after he repeatedly told staff at the home that he intended to go to Switzerland to end his life.
'Very sharp mind'
Mr Potts, of South Shields-based Patterson, Glenton & Stracey, said: "I've known Dougie for years and he contacted me when his condition worsened.
"He'd made this decision that he wanted to die and wanted legal advice and to sort out his will.
"I made him aware of the legal position and that there could be arrests if he was helped to die.
"According to the guidelines from the Director of Public Prosecutions though a person is unlikely to be prosecuted in an assisted suicide if they are motivated by compassion or have family ties.
"In such circumstances a prosecution would be unlikely, inappropriate and not in the public interest, according to the guidelines."
Mr Sinclair's funeral was held at Holy Rosary Church, Horsley Hill, South Shields, last Thursday.
Mr Sinclair's wife Monica died several years ago.
Mr Potts added: "Dougie was a keen golfer, but by the end he had lost the use of his legs and was in a wheelchair, although his mind was still very sharp."
A Northumbria Police spokesman said: "A 47-year-old woman and a 48-year-old man from South Shields have been arrested on suspicion of intentionally doing an act to assist or encourage suicide following the death of a 76-year-old man in Switzerland.
"Both have been bailed pending further inquiries."