Prince Charles opens beehive on green tour of Tyneside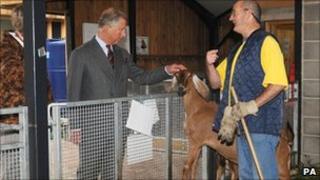 Prince Charles has visited Newcastle as part of a five day tour of Scotland, Wales and England to encourage sustainable living.
He met volunteers at Ouseburn Farm in the city centre, where he opened a new beehive as part of a city wide initiative to boost bees.
He was also shown where children planted vegetables and built a greenhouse from recycled bottles.
The prince is touring on the Royal train, which is running on bio-diesel.
Ouseburn Farm, formerly known as Byker Farm, was forced to close in 2002 when its land was found to be contaminated by the old Victorian lead works it is built on.
Powdered white lead used in the manufacture of paint had leeched into the ground and poisoned the soil. The buildings were demolished and the animals had to be re-homed.
Rare sheep
Having resolved the problem, the farm now boasts an environment and heritage centre which teaches children about animal welfare and horticulture.
The farm features rare breed sheep, chickens, pigs, rabbits and goats.
Amateur beekeeper Ian Wallace, of Heaton, Newcastle, said the Prince complimented him on his honey.
He said: "City bees are so important as without the bees there is no pollination and without that no seeds and then no plants.
"I'm honoured he has taken time out to recognise the work we have done here."
The prince' s tour started in Glasgow on Tuesday. Other places on the itinerary include Edinburgh, Carmarthen, Bristol, Todmorden, Nottingham, Manchester and Birmingham.
The programme of visits will run until Friday.