Fresh hopes for A1 road upgrade north of Newcastle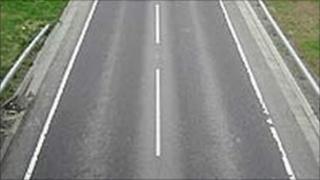 An announcement on plans to upgrade the A1 is expected "imminently", according to the Liberal Democrat MP for Berwick.
The majority of the A1 north of Newcastle is single carriageway, apart from a 10-mile (16.1km) stretch between Felton to Alnwick.
Berwick MP Sir Alan Beith, met with the transport minister Theresa Villiers on Wednesday.
The government has confirmed a consultation on reclassifying the road is expected to take place soon.
Sir Alan has said upgrading the road would improve economic links with Scotland.
'Funding priority'
Following his meeting with the transport minister, Sir Alan said: "Although progress will be difficult in the current financial situation, I am expecting an imminent announcement on the formal status of the road.
"Ministers have already told me in the House of Commons that they intend to treat the road as a national route of strategic importance rather than a regional route in future."
In the run-up to this year's general election, the Conservatives claimed that reclassifying the A1 in Northumberland as a national funding priority would help highlight its importance.
Roads Minister Mike Penning said on Thursday: "A consultation will take place in due course on a change to the national networks definition criteria which would allow this road to be reclassified.
"Work is underway to prepare the necessary consultation."