Lunch clubs for elderly in South Tyneside face cuts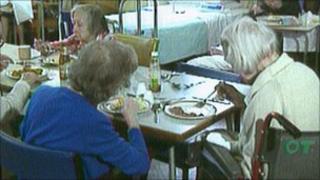 South Tyneside Council has said it will stop subsidising meals to eight lunch clubs in the area.
The council has blamed government budget cuts, forcing it to make "very difficult decisions".
The centres in South Shields, Hebburn and Boldon for the elderly and people with disabilities, will be offered help to find alternative funding for meals.
It is part of changes to the council's Adult Social Care services, to try to make savings of £160,000.
As part of the re-organisation, the council's school meals service has taken over provision of meals to lunch clubs and day centres.
The council currently subsidises 20,000 meals a year at a cost of £5.57 each.
'Difficult decisions'
Councillor Emma Lewell, the council's lead member for independent and healthy lives, said: "The adult services budget is under major pressure and government cuts are forcing us into making some very difficult decisions.
"Lunch club members pay £3.30 for their meal when the economic cost of producing and delivering it to the centre is more than £8.50."
Mrs Lewell added that the decision to change the current system was not taken lightly but the council could no longer sustain the level of service in the current economic climate.
Provision of meals will stop at eight centres including Wilfred Street in Boldon, Hampden Street in South Shields, Father James Walsh centres in Hebburn and South Shields and the John Wright centre in South Shields.