Northumberland parents' decision over son's tumour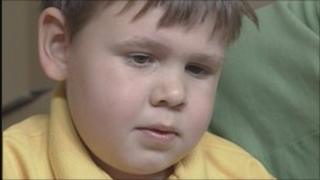 The parents of a Northumberland boy have made the tough decision that he will have no more surgery to try to beat his brain tumour.
Five-year-old Matthew Phillips, from Shilbottle, has already had 12 operations.
The tumour has returned a fifth time and his parents Rob and Vicki said they could not put him through more surgery.
They are running the Great North Run on Sunday to raise money for research into childhood brain tumours.
Matthew has been fighting the tumour since he was 22 months old.
'Fab little boy'
The operations have included brain surgery, chemotherapy and radiotherapy.
His parents said he had always dealt with the situation without complaining.
Mr Phillips said they had never been under any illusions that there would be a cure but that had not made things easier.
His mother said: "He's a fab little boy. He thinks he's great. He doesn't realise he's got any deficits from surgery.
"We have got to do everything we can to keep him well for as long as possible."
They are now looking for possible alternative treatments in America.
They are doing the Great North Run to raise money for the Children's Brain Tumour Research Centre (CBTRC) in Nottingham in the hope that other families will not have to go through the same ordeal.