Further chance to visit Whitley Bay's Spanish City dome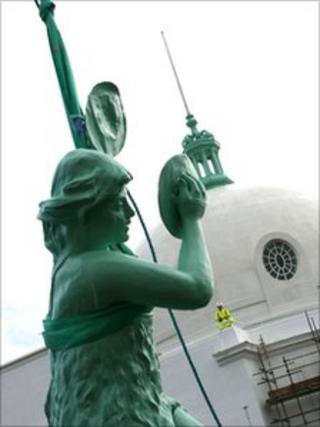 A landmark building on North Tyneside is being opened to the public for a further weekend, due to popular demand.
Spanish City in Whitley Bay has been hosting an exhibition to celebrate the centenary of its Grade II-listed dome.
The interior was open to the public for the first time in 10 years during the English Heritage Open Days project.
The event attracted 12,133 visitors and long queues meant that many others were turned away, so the building will now be open on Saturday and Sunday.
Linda Arkley, North Tyneside's elected mayor, said: "I know some people may have been deterred by the entry queue at the weekend, so I've asked for the exhibition to be extended to enable as many people as possible to pay a visit.
"From speaking to some of the visitors, I know that others had a great experience too and, quite rightly, are now feeling really excited about the building's future."
The council is currently considering proposals from two developers concerning the site's future use.
Preliminary work has also begun on a new road to the rear of the building, to allow the creation of a piazza area at the front.