Green light for Tyneside park funding bid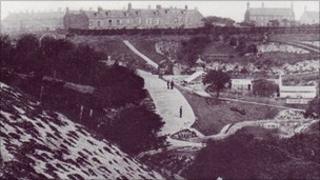 Plans to revitalise a historic North Tyneside park have moved forward.
North Tyneside Council is hoping to obtain Heritage Lottery Fund (HLF) cash to restore Northumberland Park, between Tynemouth and North Shields.
It has been given the go-ahead to spend up to £140,000 on preparing a £2.2m funding bid.
The money would help ensure unique features such as the pet cemetery, and the medieval remains of St Leonard's hospital are preserved.
Councillor Glynis Barrie, cabinet member for community services, said: "It's tremendously exciting that we're developing plans for Northumberland Park at the time of its 125th anniversary.
"I'm particularly pleased that our plans to date have been developed after listening to the view of parks users and residents.
"And I can assure the local community that we'll continue to involve them right throughout the process."