Coach breakdown on Holy Island causeway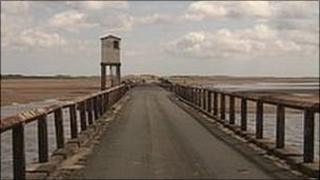 A rescue operation was launched when a coach with 40 passengers broke down on a Northumberland causeway with less than 15 minutes of safe crossing time left.
The coach became stranded on Holy Island's causeway with about 30 vehicles trapped behind it.
Humber coastguard helped co-ordinate the Seahouses RNLI inshore lifeboat, police and an RAF Boulmer helicopter.
Northumbria Police managed to transfer the passengers to a second bus.
The Holy Island Coastguard towed away the stricken bus, and the other vehicles managed to clear the causeway before the tide came in.
Graham Dawson, Humber Coastguard Watch Manager said: "Breakdowns are just one of those things that happen.
"Unfortunately it happened in the worst possible place but the police and our Coastguard rescue teams were on hand to save the day."