Hexham Abbey regeneration plan gains support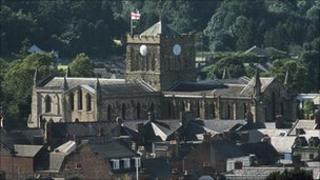 One of Northumberland's oldest religious sites has received support for a £1.8m regeneration project.
The Heritage Lottery Fund said it backed a plan to carry out work on some former monastic buildings adjoining the 1,300-year-old Hexham Abbey.
Fund bosses have approved a £170,000 development study which could also see some of the building lost during the Reformation re-acquired by the abbey.
Hexham Abbey was originally founded by St Wilfrid in 674 AD.
The head of the Heritage Lottery Fund for the North East, Ivor Crowther, said: "Hexham Abbey is one of the North East's most significant buildings and has fascinating links with the growth of early Christianity, not just in Northumberland but across the UK.
"Our initial support means that the abbey can now develop its plans to help people learn more about the Abbey's remarkable treasures, and bring the historic buildings around it back into daily use."
Plans include introducing new education facilities, to help tell the story of the abbey and its major contribution to the life of Hexham and to the North East's heritage.
Canon Graham Usher, speaking on behalf of Hexham Abbey, said: "I am delighted that the project has captured the imagination of the Heritage Lottery Fund.
"If successful the project will enable the abbey to restore significant medieval buildings, but it will also open up a greater understanding of the unique history of this site, and make an important economic contribution to this Northumbrian market town."