Coal ship repairs return to Tyneside yard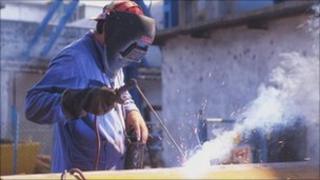 A Tyneside yard has won back a major contract to repair a cargo ship designed to carry coal.
In recent years, refit and repair work on the 22,447 ton Lord Hinton, owned by energy firm EON, was carried out in Poland.
Hebburn-based A&P Tyne won the "significant" contract because of its high safety standards.
Repair work on the 155m (509ft) long vessel is expected to take about two weeks.
The external hull will be blasted and painted, hatch covers will be renewed as well as work on the main engine and pipe work.
EON spokesman Clive Burfoot said: "We were extremely impressed by A&P Tyne's commitment to safety, which is our number one priority.
"In fact, the crew have said that A&P run one of the safest dry-docks that their ship's ever been to."
The Lord Hinton, built by the Govan shipyard in Glasgow in 1986, used to be a regular visitor to the region years ago, ferrying coal from the Tyne Tees Coal Terminal for the station on the Medway and Thames.
A&P Tyne is also working on a £55m Ministry of Defence order for a section of a new aircraft carrier.