Airport police seize items 'stolen' in Ibiza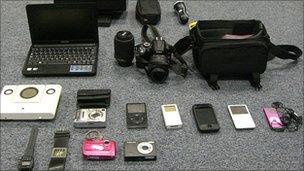 Police based at Newcastle Airport want to trace holidaymakers who may have had expensive property stolen in Ibiza.
A couple stopped at the airport had a range of goods such as iPods, cameras and watches which officers think could have been taken from hotel rooms.
Some contain photographs of weddings and holiday snaps, which the owners would be keen to get back.
It is hoped that people who have recently returned from there will be able to identify the property.
Pc Garry Stephenson, from the airport policing team, said: "We have reason to believe that these items were stolen from holidaymakers in Ibiza between 1 June and 4 August.
"We are working with the authorities in Spain around any crimes which may have been committed there in relation to these items."
Related Internet Links
The BBC is not responsible for the content of external sites.