Dig to uncover historic fountain from Tynemouth beach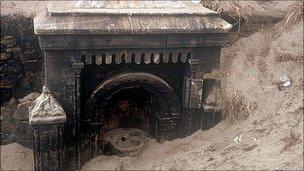 A Victorian tourist attraction is to be briefly uncovered after years of burial under a North Tyneside beach.
The Lion's Head Fountain, dating from the 1860s, covered the Engine Well at Tynemouth, and was gradually reclaimed by the sand after it fell out of use.
It will be dug out on Saturday, with members of the public invited to take part to raise funds for charity.
However, North Tyneside Council has ruled that at the end of the event it will once again be covered by sand.
The Engine Well is said to have given rise to the growth of Tynemouth as a health resort, as from the 1820s it was believed that the water had health-giving properties.
It fell out of favour a century later, and the fountain was eventually buried by the sand that swept up the beach.
One of those who campaigned for it to be uncovered was lifeguard Will Hogg, who died during a charity swim in 2009.
His son, also Will, said: "My dad worked tirelessly for years trying to get the fountain uncovered and maintained so the future beach users would get a chance to see it.
"One year after we lost him, it was proposed to the council that the fountain could be dug out to raise money for the Tynemouth Volunteer Life Brigade of which my dad was an active captain.
"Gentoo Homes Sunderland has taken over the liability and health and safety for the event, but at the end of it the fountain will be reburied as requested by the council."
Related Internet Links
The BBC is not responsible for the content of external sites.