Moat victim Pc David Rathband thanks ambulance crews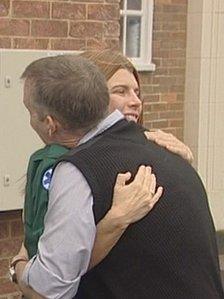 A Tyneside policeman shot and left blinded by gunman Raoul Moat has had an emotional meeting with the paramedics who saved his life.
Northumbria officer Pc David Rathband was shot in the face as he sat in his patrol car in July.
Six paramedics came to his aid, including Shaun Wright, who thought at first the hurt 42-year-old was dead.
Pc Rathband thanked the crews for saving him for his wife Cath and children.
He is now trying to raise £1m through his charity the Blue Lamp Foundation to help injured members of the emergency services.
Mr Rathband met Mr Wright and his colleagues Phil Molloy, Jennifer Gregory, Cheryl Lawson, Stephen Martin and Paul Stephenson, of the North East Ambulance Service on Thursday.
During their private reunion at Hawkey's Lane Station, North Shields, Pc Rathband hugged all six and gave Ms Lawson and Ms Gregory flowers.
He said: "Seeing the lads and lasses who basically saved my life was very emotional and took me back to that evening.
"I'm very grateful for what they did - they made sure Cath still has a husband and my children still have a father."
After the shooting, Mr Rathband said that he "bore no malice" towards Moat, who later shot himself in Rothbury, Northumberland, following a week-long manhunt.
Mr Wright said: "It was very frightening - you don't expect a policeman to be shot, in fact you don't expect anyone to be shot.
"What we came across was horrific - the amount of blood loss meant we had to act really fast, we didn't give a second thought to what was out there and what dangers we could have faced.
"It was a case of trying to save David's life and events unfolded from there.
"At first I thought he could be dead but when I pulled his head back, I could see he was conscious and he started talking to us - it was unbelievable.
"He is a very strong man. I'm so happy to see him and how he is getting on with life."
Related Internet Links
The BBC is not responsible for the content of external sites.