Footballer Andy Carroll pleads guilty to assault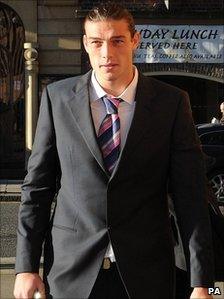 Newcastle United striker Andy Carroll has admitted assaulting a man in a nightclub.
At Newcastle Crown Court the 21-year-old pleaded guilty to common assault and was fined £1,000. He was also ordered to pay £2,500 compensation.
The court heard he threw his drink over Michael Cook in Newcastle nightclub Blu Bambu in December.
Carroll said his glass accidentally slipped out of his hand and caused a cut to Mr Cook's eyebrow.
His victim was left bruised and bleeding from a cut to his right eye.
Sentencing Carroll, Judge Esmond Faulks said: "The prosecution accept you did not intend to injure Mr Cook, so that what happened to him was effectively an accident.
"In these unusual circumstances I can proceed to deal with you by way of a financial penalty."
The hearing heard that Carroll had drunk between eight and nine pints of lager before he lashed out at Sunday League footballer Mr Cook.
Mr Cook was squeezing through the crowd when he spilt some of his drink on a woman who was standing next to Carroll, prosecutor Peter Gair said.
She verbally abused Mr Cook and poured her drink over his top. He then threw a drink in her face.
Carroll then hurled the contents of his glass over Mr Cook.
Mr Gair said: "What happened was not a deliberate or reckless act but as a consequence of his throwing the drink.
"His hand was wet; his glass left his hand and it struck Mr Cook above his right eye."
Stuart Driver, defending, said: "The fact he is a famous footballer gives him no advantage in this court room at all.
"In life it gives him opportunities and luxuries but it also brings with it unwanted attention and that is something he is going to have to learn to live with.
"He is a Gateshead boy. He loves the city of Newcastle and wants to live his life within it.
"Liquid was deliberately thrown but the glass accidentally travelled through the air due to the glass having been made wet."
Carroll was also ordered to pay court costs of nearly £1,500.
He had earlier denied assault occasioning actual bodily harm - a charge which was dropped when he pleaded guilty to the lesser offence.
The England Under-21 international is a regular in Newcastle United's first team and scored the winning goal in Saturday's Premier League victory over West Ham.
The footballer was Newcastle United's top scorer with 19 goals last season.
A Newcastle United spokesman said: "Andy is happy that this matter has now been concluded and that he can concentrate on playing football."
Related Internet Links
The BBC is not responsible for the content of external sites.