Wearside charity's paedophile web warning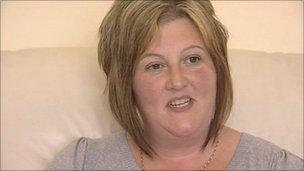 A women's charity in the North East of England has warned about the dangers of the internet for young girls - a year on from student Ashleigh Hall's death.
The teenager was murdered by Peter Chapman in 2009 after meeting him on a social networking site.
One charity described the internet as a "supermarket" for paedophiles.
BBC research has revealed 31 women in the region were raped, abused or assaulted by men they had met over the internet over the last year.
The statistics were compiled after speaking to charities across the North East of England.
'Work through the aisles'
Clare Phillipson, of Wearside Women In Need, said: "Hundreds of thousands of women who are out there on the internet and are saying they have children and are on their own.
"It's like a supermarket, in some ways, for paedophiles, to work their way through the aisles."
Convicted sex offender Peter Chapman was jailed for the rape and murder of Ashleigh Hall in March.
Ashleigh's mother, Andrea Hall, said political promises of crackdowns on internet safety had never materialised.
She said: "Nothing has been done. It seems it has been swept under the carpet."
Related Internet Links
The BBC is not responsible for the content of external sites.