Northumberland's rivers in 'top condition'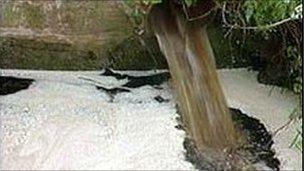 Four rivers in Northumberland are the only waterways in top condition in England and Wales, it has emerged.
But Environment Agency figures showed over a quarter of rivers met required standards under new EU measures.
Ridlees Burn, Barrow Burn Catchment, River Till and Linhope Burn, were the Northumberland rivers leading the list.
They all reached the top standard of "high" while a fifth river, the Caletwr in North Wales, fell out of the highest category this year.
The required standard under the new EU measures is a "high" or "good" rating.
The fact only four rivers have received the top grading has sparked calls from campaigners to help threatened river wildlife such as water vole, brown trout and eels.
The EU standards, which need to be achieved by 2015, are more stringent than existing measures.
According to the Environment Agency, a third of rivers and lakes which missed out on gaining the new EU standard status did so by failing on just one of the 37 indicators.
The Our Rivers campaign by the RSPB, WWF-UK, the Angling Trust and the Salmon and Trout Association said more needed to be done to help threatened river wildlife.
Our Rivers campaigner Ralph Underhill said: "The fact remains that more than 70% of rivers in England and Wales are failing European targets and not enough is being done to change this.
"There are small moves in the right direction but the level of ambition needed to protect our river wildlife from the threats of agricultural diffuse pollution, over-abstraction and poor town planning is just not there."
But an Environment Agency spokesman said: "Rivers in England and Wales are the cleanest they have been since the Industrial Revolution.
"Record numbers of otters, salmon and trout are now being found in rivers like the Mersey and the Tyne."
He said the more stringent EU standards would help ensure that rivers continued to improve.
Related Internet Links
The BBC is not responsible for the content of external sites.