Gateshead raids target illegal 'tab houses'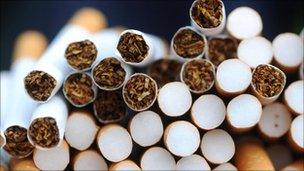 A haul of illicit tobacco and cigarettes was seized in raids on two Tyneside homes suspected of being so-called "tab houses".
Trading standards officers and police carried out the operation at properties in Lanchester Avenue in Gateshead.
The haul included 1,200 home-made cigarettes and a quantity of hand-rolled tobacco.
Tab houses refers to properties from which smuggled or counterfeit cigarettes and tobacco are sold.
Tenants of the houses now face legal action and possible eviction.
A spokesman for Gateshead Council said: "This raid puts down a definite marker showing those who operate illegal tab houses that it will not be tolerated.
"Often these illegal cigarettes are sold to children exposing them to all the well documented health risks associated with smoking.
"People have often viewed these illegal tobacco suppliers in a favourable light, but the reality is their activities get young people hooked on smoking."
Bill Fullen, chief executive of Gateshead Housing Company, said: "Anyone selling tobacco from their homes is in breach of their tenancy agreement and risks eviction."
A Northumbria Police spokesman said: "This is an example of how we can crack down on illegitimate trading activity and reassure the community that action is being taken against those who commit trading offences."
NHS figures show that about 84,000 North East children are still exposed to smoke in the home, resulting in around 13,000 needing hospital or GP treatment as a result of breathing in smoke.
In 2009 about 30% of under-18s admitted to buying illicit tobacco, particularly in areas of deprivation.
Related Internet Links
The BBC is not responsible for the content of external sites.