Warning to illegal 'fly-campers' in Northumberland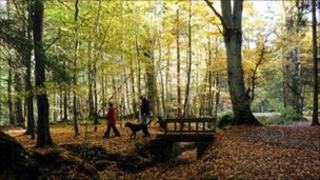 Landowners and police have begun a crackdown on so-called fly-camping in rural Northumberland.
The move comes after problems with unattended camp fires, injured livestock and environmental damage, particularly in the Coquetdale area.
Extra police patrols are being mounted and additional warning notices posted in forestry areas.
Northumbria Police urged visitors to use recognised camping areas and not pitch tents on private land.
A force spokesman said: "Fly camping on private land has been a problem in the Coquetdale area for a number of years.
"Problems caused by these illegal campers included an unattended campfire that was allowed to burn out of control destroying an area of forest within the Cragside Estate.
"Livestock have also been injured after roaming free through gates left open by campers and a number of sensitive environmental areas that have been spoilt by the irresponsible discarding of large quantities of litter.
"Most people may think that camping on private land doesn't cause any harm, they are mistaken.
"By all means come to the area, but do it safely and legally."