Jobs hope from Newcastle city centre revamp plan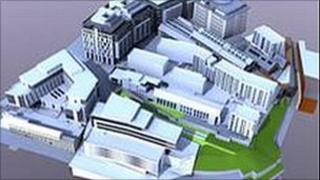 City council bosses in Newcastle have pledged £30m to back major development which could bring 2,000 jobs.
The revamp of the Stephenson Quarter, near the city's Central Station, will include a new 251-bed four star hotel, business centre and 156 apartments.
The council will partner a private-sector developer, with work expected to start in March 2011 and finish in 2013.
Detailed planning permission for the project, which will cover a 10-acre site, has already been approved.
David Slater, executive director of environment and regeneration at Newcastle City Council, said: "This is one of the key development opportunities in the city centre, therefore Newcastle needs to grasp the opportunity to move things forward, working in partnership with developers."
Michelle Percy, director of Silverlink Holdings, added: "The Stephenson Quarter has been our main focus for over six years and during that time we have worked in close partnership with the city council.
"The city's commitment demonstrates our shared confidence that this exciting, strategic development will deliver jobs and wealth and establish a vibrant, engaging new quarter to the city."