BA call centre worker Rajib Karim denies terror charges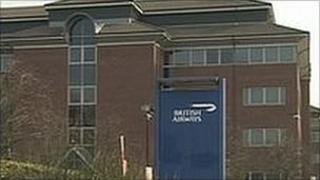 A British Airways computer expert alleged to have offered himself as a suicide bomber has appeared in court to deny terrorism charges.
Rajib Karim, 31, of Newcastle, remains in custody and is due to go on trial on 24 January at Woolwich Crown Court.
Mr Karim appeared via videolink on Monday at the Old Bailey where he pleaded not guilty to two charges of preparing for terrorism.
Each count covers the period from April 13 2006 to February 26 2010.
They include the allegation that he "offered to be a martyr or suicide bomber".
Mr Karim was arrested in February while working for the airline's call centre in Newcastle.
'Potential recruits'
The first charge alleges that he engaged in conduct in preparation of terrorism, with the intention of committing acts of terrorism, including that he "incited the giving of permission to carry out terrorist acts in the United Kingdom".
Mr Karim is also said to have offered to travel to Yemen or Pakistan to carry out terrorism training, and to have advised about potential recruits to commit terrorist acts in the UK.
It is further claimed that he "advised and counselled the commission of terrorist acts by providing information" on topics such as such as liquids allowances on planes, airport security and scanners, and immigration questions to travellers.
'Inside knowledge'
He was also said to have provided details on BA computers and their vulnerability to a physical or "internal systems" attack to inflict financial loss.
Information was also alleged to have been provided on the opportunity to obtain cabin crew training, information, experience and aeroplane access and "inside knowledge".
Karim is additionally accused of giving advice about working for BA and obtaining a British passport.
The second charge alleges preparing terrorism to assist another to commit terrorist acts, which includes some claims similar to the first count, as well as the accusation that he asked for, collected and sent money for terrorism.