Students to continue occupation of Newcastle University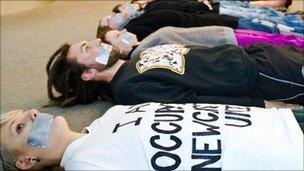 Students occupying part of Newcastle University have warned bosses they have no plans to end their protest at proposed hikes in tuition fees.
About 60 students began the occupation of the university's Fine Arts building on 24 November, after taking part in a march through the city.
A spokesman for the group warned officials the protest would continue and was not a "glorified sleep over".
University bosses have so far refused a direct meeting with the group.
The students stressed the occupation was a peaceful protest and there would be no disruption to lectures or seminars.
They have called on the university to release an official statement rejecting the government proposals for higher education, condemning any education cuts or rises in university tuition fees.
However, the university has said the demonstrators do not represent the bulk of student opinion.
Masashi Stokoe, one of the students involved in the protest, said: "We have not been able to speak to the vice chancellor as a group democratically.
"We have been told we do not represent student opinion, but the wave of protests throughout the country suggests otherwise."
The protest has the backing of the National Union of Students at the university.
Another protester, music student Jon Clark, added: "We are showing management that we take the defence of education seriously.
"The occupation is not a glorified sleep over, we are prepared to take action."
Students are angry at government plans to raise tuition fees to up to £9,000 per year and cut university teaching budgets.
Related Internet Links
The BBC is not responsible for the content of external sites.