Newcastle World Cup hopes dashed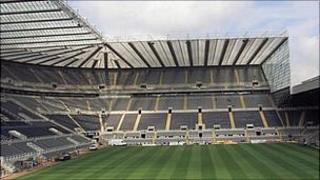 Hopes that Tyneside could play a part in the 2018 World Cup have been dashed, after it was announced that the tournament will take place in Russia.
Newcastle had been named as a potential host city, and officials from Fifa visited St James' Park in the summer.
Officials behind the city's bid said the decision was disappointing.
However, the bid had showcased the area as a "world-class destination for sport", and there were a number of events to look forward to.
David Faulkner, leader of Newcastle City Council and chair of the NewcastleGateshead World Cup Champions Group said: "Over the past 18 months, businesses and attractions from both the public and private sector have come together to form a strong partnership".
It had shown the city had the "the infrastructure, facilities and ambition to compete on a world scale and that is something we should celebrate".
Sunderland was one of a further 11 cities hoping to play a part in the World Cup, either by holding matches or as a base for some of the national teams.
Real passion
If successful, it could have boosted the North East's economy by millions of pounds.
James Ramsbotham, chief executive of the North East Chamber of Commerce, said: "This is a blow to North East England, not least because of the benefits to the local economy that hosting an event of this scale could have brought to the area, but also because there is a real passion for the sport in this area of this country.
"Sunderland Association Football Club and Newcastle United Football Club both did incredibly well in presenting the region's offer in a very positive light.
"I would encourage both to continue to build upon the momentum and relationships that were established throughout the bidding process, and ensure that we capitalize on the opportunities that football brings to the North East."