Police urge Newcastle drinkers to wear a coat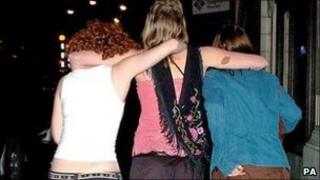 Temperatures have fallen so low that people on a night out in Newcastle have been warned to wear a coat.
Revellers in the city are famed for their skimpy clothing, whatever the weather.
But with temperatures plunging as low as -11C, police have warned people they risk hypothermia if they do not take precautions.
The NHS said drinkers should seek a balance between having a good time and staying safe.
A police spokeswoman said: "People on nights out over the weekend should be aware of the very cold conditions and dress appropriately, bearing in mind that they may have longer to wait at taxi ranks and bus stops.
"It is a good idea before leaving home to make sure someone knows where you are going, and to think about how you are going to get back.
"You should also carry a fully charged mobile phone with credit on it."
'Really exceptional'
Sue Gordon, acting executive director of public health for NHS North of Tyne, said: "People are particularly at risk from hypothermia when they've been drinking.
"Layering up is recommended, as well as wearing a hat and gloves.
"It's about getting a balance between a good time and common sense."
BBC weather forecaster Paul Mooney said: "The temperatures in Newcastle really have been exceptional.
"Last night there was a low of -11C, and things remained sub-zero throughout the day."
He added: "The cold temperatures, snow and ice look set to stay for the foreseeable future."