End in sight for Newcastle student sit-in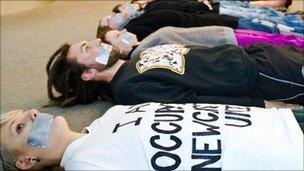 A sit-in at Newcastle University, which has lasted more than two weeks, is due to end following an agreement between both parties.
A number of students have been occupying the Fine Arts Building since 24 November in a protest against a rise in tuition fees.
About 30 were still at the site on Friday, but have now agreed to leave by Sunday afternoon.
Until that time, the university will allow them to come and go.
The students had been calling on the university to release an official statement rejecting the government proposals for higher education and condemning any education cuts or rises in university tuition fees.
A spokesman for the university said: "The student protest has been peaceful and we commend the students for that.
"The university has allowed them to express their point of view but is pleased that, now the outcome of the Parliamentary debate on tuition fees is known, the occupation is ending so that normality can be resumed in this part of the university."
Related Internet Links
The BBC is not responsible for the content of external sites.