160-year-old Berwick bridge lit up two weeks late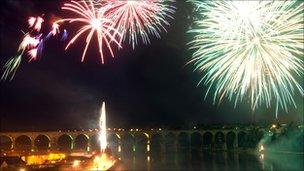 Celebrations to mark the 160th birthday of a railway bridge which links Scotland and England have gone ahead after being delayed by the heavy snow.
On 27 November the arches of the Royal Border Bridge in Berwick were due to be lit up during a firework display.
But the ceremony was delayed and only went ahead on Sunday two weeks late when the snow began to thaw.
The bridge was designed by engineer Robert Stephenson and people sharing his name were invited to the ceremony.
They included five-year-old Bobby Stephenson from Tweedmouth in Berwick.
His mother Gillian said: "The bridge looked gorgeous, the firework display was fantastic and this will certainly be something we'll talk to him about when he's older."
Visitors to the town were also treated to a traditional Dickensian Christmas market, a lantern parade and illuminated street performers.
Leader of Northumberland County Council, Jeff Reid, said: "Unfortunately the force of the water coming through the arches over the last couple of days caused a cable to dislodge and create a temporary problem with a few of the lights.
"The electricians were unable to reach the problem but it will be rectified once it is safe to do so and the waters have receded.
"Even though it feels like the weather has been constantly working against us, this has been a fantastic event and a spectacular way to mark the anniversary of the bridge."
The bridge was officially opened by Queen Victoria in 1850.
Related Internet Links
The BBC is not responsible for the content of external sites.