Anglo-Saxon settlement unearthed in Northumberland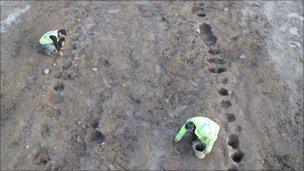 The remains of an Anglo-Saxon settlement have been discovered at a surface mine in Northumberland.
Buildings and artefacts dating from the 6th to 8th centuries have been uncovered at Shotton Surface Mine, on the Blagdon Estate, near Cramlington.
The site had been investigated by archaeologists before the start of open-cast mining work.
Experts said the find had provided "the first direct evidence" of Anglo-Saxon settlement in that part of the county.
A team of archaeologists from TWM Archaeology, funded by Banks Mining, undertook the excavation and discovered the settlement.
It comprised of at least six rectangular post-built halls - each thought to house a family unit - two buildings with sunken floors and a system of enclosures, fences and trackways.
Anglo-Saxon pottery, loom weights and metalworking residues have all been recovered from the site.
The archaeological investigations on the surface coal mine also revealed a number of other sites including several Iron Age roundhouses, ditches and pit alignments - which were used as land divisions.
The potential of the site was recognised by Northumberland County Council archaeologists but despite the extensive preliminary work, the council said the remains came as a surprise.
Karen Derham, Northumberland County Council Assistant County Archaeologist, said: "We know Northumberland was at the heart of the early medieval Kingdom of Bernicia and yet archaeologists have so far only discovered a very small number of settlement sites, all previously in the north of the county.
"The surface mine at Shotton has given us the first direct evidence of Anglo-Saxon settlement in this part of the county and has confirmed its potential for making important archaeological discoveries."
Banks Mining has been operating Shotton Surface Mine since 2008.
Part of the restoration plans for Shotton include the Northumberlandia landform which is currently being constructed and will be open to the public in 2013.
Related Internet Links
The BBC is not responsible for the content of external sites.