Year-long study of North East coastline begins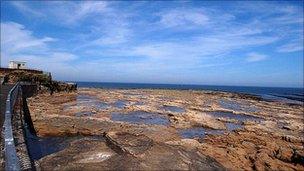 A year-long project is being launched to capture the beauty of the North East coastline through the eyes of the people who live there.
Project leader Susan Gebbels said it was hoped young people in particular would get involved.
The best examples will eventually be published in a 365-page book.
Ms Gebbels said: "Our seas and coastlines are not only beautiful, they are also important to the ecology of our planet as a whole.
"The aim of this book is to celebrate the region's coastline and look at it through many eyes to appreciate it in many different ways."
So far a dozen primary schools have been recruited to capture differing areas in each of the next 12 months. But Ms Gebbels said anyone could take part.
She added: "We just want people to take the time to look and to capture whatever it is that encapsulates what the coast means for them.
"Through this project we are likely to record environments, plants and animals that without protection could also one day be relegated to the history books."
Related Internet Links
The BBC is not responsible for the content of external sites.