Gateshead soldier's body repatriated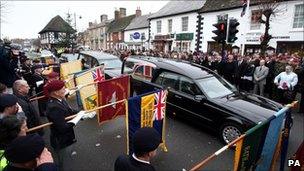 The body of a British soldier killed in a bomb blast in Afghanistan has been flown back to the UK.
Cpl Steven Dunn, 27, died on 21 December in the Nahr-e Saraj area of Helmand when his vehicle was hit by a roadside bomb.
His coffin was flown into RAF Lyneham and hundreds of people gathered in the Wiltshire town of Wootton Bassett to see it driven through.
A Newcastle United scarf was placed by a mourner on the hearse.
Colleagues from the Parachute Regiment saluted the cortege and veterans lowered standards.
The soldier, of 216 Parachute Signal Squadron, Royal Corps of Signals, left behind his wife Cheryl and daughter Emily.
In a statement, Cpl Dunn's family said he left "a huge hole in the lives of those he has left behind".
It said: "He lived for the Army, especially 216 Parachute Signal Squadron and worked hard to get his wings, of which he was very proud."
They said they were "immensely proud" of all that he achieved and that he had died doing a job he loved and excelled at.
Cpl Dunn was on his third tour of Afghanistan.