Moat victim Pc David Rathband criticises 'lack of help'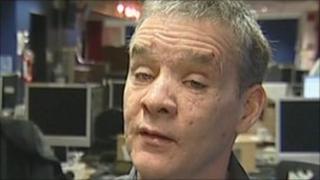 The policeman blinded by Raoul Moat says he feels let down by the organisation which should have supported him after the event.
Pc David Rathband was shot in the face by the gunman in July.
He claimed the Police Federation had left him to "fend for himself" on his road to recovery.
The recently-appointed chairman of the Northumbria branch said he was aware there had been some issues and would be arranging a meeting.
Pc Rathband, who has been fitted with a prosthetic eye, said: "People seem to think the emergency services are paid extremely well, and yes they might be paid well, but the risks are high.
"I've lost both eyes and officers day in and day out have that same chance and risk.
"The Police Federation will sing their own praise and say they will do various things, but I've had very little help from the people I expected it to come from, and I don't want anybody to be in the position where I am now.
"I'm mortified by it.
'No malice'
"Twelve weeks on I'm still waiting to speak to the national chairman and keep constantly pestering to speak to somebody."
A spokeswoman for the Police Federation said: "Whilst this is one for the local federation in Northumbria, [national chairman] Paul McKeever has been keen to speak with Pc Rathband for months and has made many attempts to contact him."
Charles Munro, who has recently taken over as chairman of the Northumbria Police Federation, said: "Whilst I am aware Dave has had some issues, it would not be fair for me to comment until I have had the chance to sit down and explore them with him."
After the shooting, Pc Rathband said that he "bore no malice" towards Moat, who shot himself in Rothbury, Northumberland, following a week-long manhunt.
He has since set up the Blue Lamp Foundation, a charity aimed at providing financial help to emergency personnel injured in the line of duty.