Hopes of pine marten return to Northumberland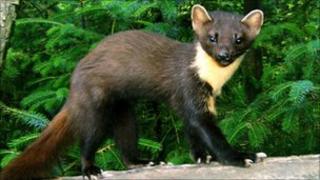 Wildlife experts are hoping to attract rare pine martens to nest in Northumberland.
The animals are extinct in most of England and their last UK stronghold is in Scotland.
The Forestry Commission said pine marten droppings had been found in private woodland next to its land at Kidland Forest in the Cheviot Hills.
The discovery by Northumberland Wildlife Trust has led to five nesting boxes being put up.
The aim is for the boxes to provide a ready-made den for pine martens to raise young.
The Forestry Commission is working with The Vincent Wildlife Trust on the project.
Forestry Commission ecologist Tom Dearnley said: "The discovery of droppings or scats near Kidland was stunning news, but we are still very much in the dark about the creature's status.
"If we can entice an animal to use one of the boxes, not only will it teach us more about the pine marten population in England but it will also provide a chance to study its behaviour and a place to rear young ."