Pollution fear at leaking lorry driven into River Tyne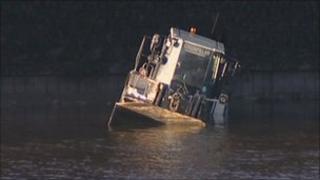 Environmentalists are monitoring a river after a leaking tipper truck was driven into the water by thieves.
Fuel was taken from the vehicle which was parked in a cement firm compound in South Shore Road, Gateshead, on Monday night.
Thieves then drove the leaking, two-tonne loading tipper into the River Tyne.
Port of Tyne experts are now trying to tackle the spillage. Police said the thieves were "mindless".
Officers said they had tampered with several vehicles on the company's premises before stealing a quantity of diesel.
'Gross stupidity'
The truck is currently being removed from the water.
Insp Peter Storey said: "This appears to be a mindless act of vandalism and gross stupidity.
"Not only does this sort of offence impact on the company involved, causing huge inconvenience and additional expense, it also has a detrimental effect on the environment.
"Fortunately there has been no significant damage on this occasion."