Transplant milestone for Freeman Hospital in Newcastle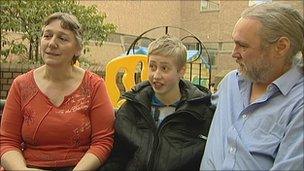 A pioneering Tyneside hospital has reached a transplant milestone after a successful heart operation on a 15-year-old boy.
Andrew Humphrey, from York, was diagnosed with serious heart problems before he was born.
He is the 200th child transplant patient at Newcastle's Freeman Hospital and was allowed home on Tuesday.
Surgeons at the hospital carried out the UK's first successful heart transplant for a baby in 1987.
The teenager underwent several operations to try to give him a reasonably functioning heart.
But as he turned 15 his condition deteriorated and a heart transplant operation was carried out last month.
Paediatric cardiologist Dr Richard Kirk said: "Andrew was only born with half a heart, which posed difficult problems and he had to have lots of operations.
"Doing these sorts of transplants is incredibly challenging and we have to ensure his body adjusts to having a new heart.
"But we're delighted with Andrew and happy he has become our 200th transplant."
Andrew said: "I used to be all blue and breathless. But now I'm just looking forward to going home and being able to do stuff."
His mother Zena added: "Everything is going to completely change now because he's going to be fit and healthy.
"It's going to be really good and we'll be able to do things we've never been able to do before."
Related Internet Links
The BBC is not responsible for the content of external sites.