Jury hears Raoul Moat phone threat to kill police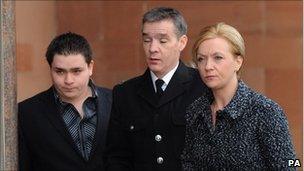 A chilling telephone call from gunman Raoul Moat, in which he threatened to hunt down and kill police officers, has been played to a jury.
The call to Northumbria Police was released as Pc David Rathband told of being shot in the face by Moat.
He was giving evidence at Newcastle Crown Court in the trial of two men accused of helping Moat, 37.
In the call, Moat also confessed to shooting Chris Brown, the new boyfriend of his ex-girlfriend Samantha Stobbart.
Karl Ness, 26, and Qhuram Awan, 23, deny plotting to murder, attempted murder, robbery and having a gun.
Mr Ness also denies the murder of karate instructor Chris Brown.
In the call, the trial jury heard Moat introduce himself as "the gunman from Birtley."
He accused the police of harassment and issued a menacing warning that he intended to hunt down and kill officers.
He told a call handler: "The fact of the matter is I'm not coming in alive. Yous have hassled me for so many years. If you come anywhere near me I'll kill yous.
"I'm coming to get yous. I'm not on the run - I'm coming to get you."
Minutes later, Pc David Rathband was blinded after Moat shot him in the face at point blank range as he sat in a patrol car in Newcastle.
Moat said he shot Mr Brown on 3 July last year, in the false belief he was a police officer who was in a relationship with his former girlfriend of six-years, Samantha Stobbart.
He said: "What I'm phoning about is, is to tell you exactly why I have done what I have done, right? Now, my girlfriend has been having an affair behind my back with one of your officers.
"She has had an affair with one of your officers. If he had not been a police officer I would not have shot him."
He also claimed he intended to shoot Miss Stobbart only so she could claim compensation.
He added: "It was meant to get her compensation because obviously I'm not going to be around in a few days, right, it was meant to just give her a little injury so she can get lots of compensation.
"Now that I have found out that she's critical I'm not happy about it. I did not mean that, you know what I mean?"
Moat ended the call by saying he planned give police a chance to kill him.
He said: "You will get your chance to kill us, right, you will get your chance to kill us.
"Aye, yous wanted me to kill myself but I'm gonna give yous a chance cos I'm hunting for officers now, right?"
The trial of Mr Ness and Mr Awan continues.
Related Internet Links
The BBC is not responsible for the content of external sites.