Mephedrone warning after Northumberland hangings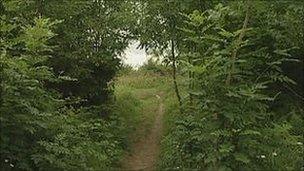 Two young men found hanged in Northumberland had taken the drug mephedrone, an inquest has heard.
The bodies of Christopher Harrington, 20, and 19-year-old Kieran Kenny, were discovered in woodland near their homes in Cramlington in July 2010.
Both had left suicide notes to their families and friends.
The coroner issued a warning to young people that the drug, known as miaow miaow - and legal at the time - had been linked to many suicides.
The inquest heard that the pair, who worked in the local McDonalds, had alcohol in their systems.
They had also taken mephedrone, but it was not possible to say how much.
Paul Dunn, assistant deputy coroner for Northumberland, said that there was growing evidence to suggest that mephedrone could cause suicidal tendencies.
He spoke about a warning circulated to pathologists and coroners from a private forensic laboratory which said around 50% of the suicides by hanging or shooting that it had dealt with in the first half of 2010 involved people who had recently taken mephedrone.
"It could be that the 'come down' is more pronounced from these drugs than other stimulants, for example ecstasy," he said.
"I stress very firmly that there is no evidence to suggest that [taking mephedrone] had an influence in the decision that either Christopher or Kieran took on that occasion.
"It is quite clear from the notes left that both boys had contemplated this for some little while.
"But it's important from a public safety point of view that particularly young people who seem to be drawn to this type of use are fully aware that there seems to be some evidence that it can cause a risk that a person will self-harm or suicide."
He described the case as a "tragedy" and recorded a verdict that both men had taken their own lives.
Related Internet Links
The BBC is not responsible for the content of external sites.