Gateshead boys save grandmother from house fire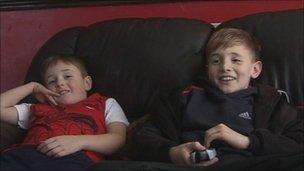 Two young brothers have told how they saved their grandmother from a fire at a house in Gateshead.
Evan, 10, and nine-year-old Keinan Eccleston woke to find the house in Bramblelaw, Beacon Lough, filled with smoke on Wednesday.
Their grandmother, Jacqueline Eccleston, was asleep and the pair woke her and took her to safety.
Tyne and Wear Fire and Rescue said the blaze had begun because of an electrical fault in a television.
The service said it attended the incident just after 0300 GMT.
A spokesman said the living room was destroyed by fire, and the rest of the house was severely smoke damaged.
The brothers had recently had fire safety training at their school in Gateshead.
Keinan said: "(We) woke up and there was smoke everywhere. It was in my eyes and going up my nose and at the back of my throat so I put a blanket over my face."
Evan said: "I grabbed her hand and Keinan grabbed her arm.
"If she had taken a few more breaths of smoke she could have still been in hospital now, and I love my nana and didn't want that to happen."
Ms Eccleston said: "There was fumes everywhere. They were shouting nana, nana, come on out, out.
"They were very brave, they didn't panic at all."
She said she planned to reward the boys with a trip to the wrestling in April.
Related Internet Links
The BBC is not responsible for the content of external sites.