Exercise tests Tyne Tunnel safety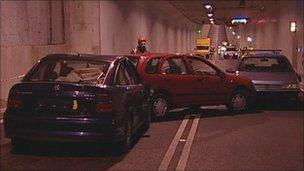 Emergency services have taken part in an exercise to test the safety systems in the second Tyne Tunnel ahead of its opening.
The new tunnel has been built as part of a £260m project and is due to start being used by traffic by the end of February.
The exercise replicated a serious emergency incident in the tunnel.
It aimed to test the tunnel's safety systems and how they worked alongside the emergency services' response.
Another aim of the exercise was to test the reaction of motorists to an emergency.
The tunnel is fitted with a fixed fire suppression system which releases a fine mist to contain fires to help motorists leave safely and to prevent damage to the tunnel structure.
Phil Clark, from Tyne and Wear Fire and Rescue Service said: "This is a really important part of the commissioning process. We need to get this right.
"Obviously this is the time that we can look at our plans and make sure that they work effectively.
"The next time that we may have to use these plans could be in the event of a real incident and the last thing we need to be doing in a real incident, in the unlikely event that that should occur, is then trying to work out what we do."
The project includes the refurbishment of the original 1967-built tunnel.
When the new tunnel opens, the first tunnel will be closed for the work and both are expected to be open by the end of the year.
Related Internet Links
The BBC is not responsible for the content of external sites.