BA man Rajib Karim denies job was part of terror plan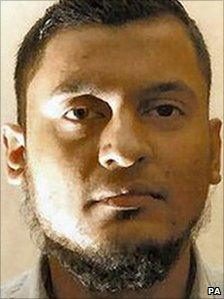 A British Airways worker from Newcastle accused of terrorism offences has denied he got a job with the airline so that he could plan a terror attack.
Rajib Karim, 31, told Woolwich Crown Court: "Islam teaches that you can't target civilians."
The Bangladeshi national denies four counts of engaging in conduct in preparation of terrorist acts.
He has pleaded guilty to offering himself for insurgent operations overseas and to terrorist fundraising.
The prosecution claims that Mr Karim is "committed to an extreme jihadist and religious cause" and was "determined to seek martyrdom."
Mr Karim told the court that he was from a well-to-do family in Dhaka, the capital city of Bangladesh.
He and his younger brother, Tehzeeb, who were privately schooled, became supporters of the proscribed organisation Jammat-ul Mujahideen Bangladesh (JMB) which fought to set up an Islamic state in the country.
They "started to think about jihad" after using online forums, he said.
Their plan to live in an Islamic state was put on hold when Mr Karim moved to England in December 2006.
His wife, who is from Newcastle, wanted to seek medical attention for the couple's son.
Once in Newcastle Mr Karim sought employment with a number of firms, including British Airways.
Defence barrister James Wood QC said: "You are charged with seeking a job at BA in effect to gain information to be able to conduct a terrorist attack.
"Is there any truth in that?"
Mr Karim said: "No, none whatsoever."
Asked for his view of the 7/7 attacks in London in which 52 people died, he told the court: "I didn't agree 100 per cent with it... I had difficulty understanding why Muslims would do such a thing."
Mr Karim, from Brunton Lane, has admitted his part in the production of a video for a terrorist group, fundraising, and encouraging others to volunteer for terrorism abroad.
He has denied plotting to blow up a plane, sharing information of use to hate groups such as al-Qaeda, offering to help financial or disruptive attacks on BA, and gaining a UK job to exploit terrorist purposes.
Related Internet Links
The BBC is not responsible for the content of external sites.